Kinjo College
Kinjo College was opened as a two-year college in Hakusan City, Ishikawa Prefecture in 1976 based on the philosophies "Education with hand-crafted warmth," and "Walk from Kinjo to the world." It has three departments: the Department of Business Administration, the Department of Art, and the Department of Early Childhood Education, and a Preparation Program for Foreign Students. Though the college consists of heterogeneous departments, they are harmonious as a whole and full of cheerful activity.

Kinjo College's hand-crafted and fine-tuned education for cultivating qualities and personalities develops general abilities to think with a broader vision, in addition to supporting acquisition of qualifications.

Kinjo College celebrated the 40th anniversary of its opening in 2016. Over 13,000 graduates have been working in companies, childcare centers, kindergartens and welfare institutions throughout Ishikawa and its neighboring prefectures. Kinjo College also supports education and research activities to meet demands from communities and promote many projects I collaboration with communities on the basis of its long history and rich tradition as a community-based higher education institution.
Department of Business Administration

The Department of Business Administration offers four courses: the Food Business Course, the Comprehensive Business Course, the Medical Administrative Assistant Course, and the Hotel and Tourism Course. Students of all four courses will start by learning basic business skills, including business manners and interpersonal skills, bookkeeping and accounting, basic computer skills, and conversational English. From there students will move on to master more specialized skill sets. Kinjo College also offers the region's first "Cafeteria Credits" system, wherein students can freely select what they want to study as though choosing items from a menu, allowing them to set their specialty focus however they would like. Everything about the courses is designed to allow students to become the person they want to be, by allowing students to design the course of study that is right for them.
Department of Art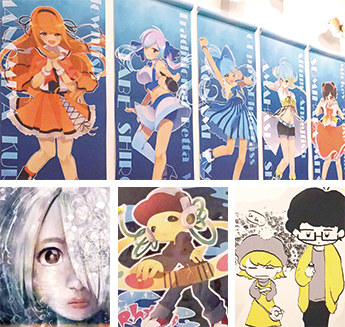 Kinjo College offers the Hokuriku region's only authentic junior college art program, featuring seven different courses: the Interior Coordinate Course, the Oil Painting and Japanese-Style Painting Course, the Design and Business Course, the Fashion Stylist Course, the Cartooning and Character Design Course, the Games and Video Course, and the Dyeing and Pottery Course.

For each of these courses, the mornings are set aside as production time, providing plenty of time to work on your projects. In addition, students also tour businesses and get real hands-on experience at art shops, as well as actively contributing to the local community by taking commissions from outside the college, developing their skills through academic - industrial collaboration. This learning environment provides students with the perfect chance to master the skills needed to contribute to society through their art and modeling.
Department of Early Childhood Education

The two-year Department of Early Childhood Education course offers detailed lessons and an incredible variety of training to help students receive childcare worker and type- 2 kindergarten teacher licenses. Many graduates from Kinjo College use their specialties in fields like music, art, education of disabled children, and education of infants to be able to start work immediately at their new jobs in early childhood education. Our students enthusiastically study many different topics, motivated by their dreams of becoming high- level specialists in early childhood education.

Kinjo College's Department of Early Childhood Education is not only lshikawa's only junior college childcare program, but also one with plenty of history, stretching back to the department's founding in 1976. Many graduates have since gone on to work in childcare and kindergartens throughout Ishikawa and its neighboring prefectures. Today, Kinjo College, along with the affiliated Kinjo University Division of Child Care, is lshikawa's largest -scale childcare training school. Students study childcare in the rich environments of the on-campus attached kindergarten and affiliated pre- schools.
Preparation Program for Foreign Students
The Preparation Program for Foreign Students is designed to give students a detailed education in Japanese to enable them to progress into Kinjo University or Kinjo College. In addition to Japanese language skills, students will also learn about Japanese culture, manners, customs, and more, through a year of comprehensive study of Japan as a whole. Classes are kept small and matched to students' individual Japanese language levels, providing friendly, easy-to-understand personal instruction.

In addition, in order to ensure that foreign students can enjoy their lives as students, we offer plenty of foreign student support, whether it's help for classes or help with everyday life, or even help with scholarships. Students of the Preparation Program for Foreign Students also receive the opportunity to come together for activities like setting up shop stands at the school festival. Our highly international staff speaks English, Chinese, and more, and has lots of experience with international travel, allowing them to provide multilingual support and help our foreign students feel at home in their everyday lives.